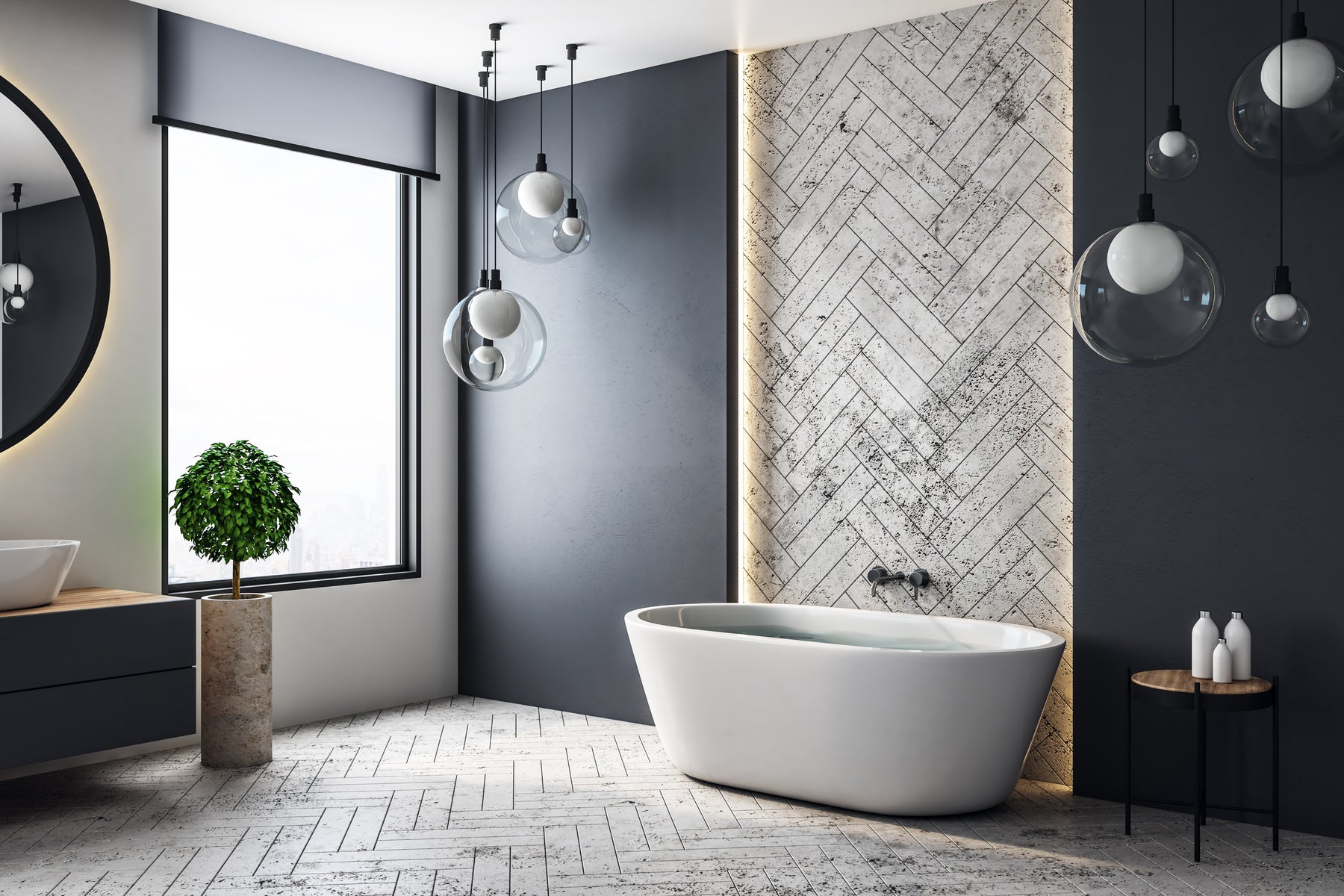 Creative Ideas to Inspire Your Bathroom Renovation
Canadian bathrooms have certainly evolved since the 1950s when floral tiles and art deco styles were popular. Nowadays modern bathrooms feature amazing composite finishes, exotic tiles, technically-advanced toilets, amazing composite finishes and new and exciting bathroom accessories that make organizing and storage a breeze. When it's time for a bathroom renovation, look through these creative ideas to get inspired.
Refinish or Redesign?
One of the first questions you need to ask yourself is whether your existing bathroom needs to be refinished or redesigned. The answer will be based on a number of different factors including how many people use the bathroom and what is required to make it function better. In some cases a brand-new redesign will be warranted while at other times refinishing it will be enough.
The answer may also be based on your budget. Changing the configuration of the room will cost a lot more since the electrical, the plumbing and perhaps the wall construction may need to be changed. Take a look at the benefits that you would receive by reconfiguring your bathroom and whether it is worth the extra money you'll have to spend. In many cases just refinishing the bathroom may be enough.
Redesigning the Bathroom
Take a look at the current configuration of the bathroom and consider what can be done to it. There may be some features that can be changed easily while others are virtually unchangeable. In order to get a complete idea of what can and what shouldn't be done you'll need to get some professionals in the field to give you advice such as a plumber, an electrician or a structural engineer. This will all depend on the scope of your project. For example, you won't be able to knock out a load-bearing wall if you want to extend the bathroom to make it larger. Get the information before making any decisions since there may be many unknowns that will dictate how you should best proceed.
When you know what can possibly be done then it's time to get creative with your bathroom renovation. There are many sites you can visit to draw your design to see how it would look in 3-D. Start by laying out the larger fixtures such as the bathtub, shower, vanity and toilet and consider your storage options. You can then accessorize as you want to make the whole room come together. 
Refinishing the Bathroom
You can revitalize a bathroom without changing the layout of it. Simply buying new bathroom fixtures will give you the starting point to change up the bathroom through the use of paint, waterproof contact paper, new mirrors and other accessories. This is by far the most cost-effective way to bring a lifeless bathroom back into existence again and it may cost much less than you think.
Small Bathroom Ideas
If you're working with a very small bathroom the best thing you can do to create the illusion of more space is to add mirrors. This will open up the room and make it look much bigger than it really is. Paint the room using white or another light colour. Darker colours will make the room appear smaller.
If you have a vanity in the room that takes up a lot of space, think of replacing it with a pedestal sink. For storage you can use floating shelves to replace the drawers and cupboards in the vanity. Opening up the floor space will make the bathroom look much larger and by adding the freestanding shelves you will still have plenty of room to store all of your bathroom essentials. When it comes to small bathroom ideas, it all boils down to giving the illusion of a larger bathroom while at the same time sprucing it up to look fresh and new again.
Large Bathroom Ideas
If you are dealing with a large bathroom then you'll have a lot more space to work with and will have a lot more flexibility than you would have with a smaller bathroom renovation. You may have the option of having a separate bathtub and shower area and you could even consider installing a built-in sauna if the room is large enough. Saunas and infrared lights are some of the most common large bathroom ideas that are trending right now. 
A double vanity works well in large bathrooms and makes them look luxurious. You'll be able to install swinging shower doors if you prefer that type of look since you won't have to worry about the doors bumping into anything when opened. You'll also have more options when it comes time to paint the bathroom and can use slightly darker colours. It's never a good idea to choose colours that are too dark, however, since you'll want the bathroom to be full of light. If you do prefer darker colours, use them primarily to accessorize the bathroom to make it snap and pop.
Bathroom Decorating Tips
When decorating your bathroom it's best to use a maximum of 3 different colours and no more. If you're working with a smaller sized bathroom it's best to stick to 2 colours. Also, consider the colours that you are using in the other rooms nearby because when you are standing at the threshold of the door the other rooms will be seen as well. 
Keep the design and the accessories minimal. The bathroom is one of the easiest rooms to become cluttered. Think of organization and storage when choosing your accessories and the type of use they can bring. For example, a beautiful soap dish would add to the appearance of the bathroom and provide a useful function.
Refinishing and renovating a bathroom can be a chore but it's all worth it in the end. Think of your reasons behind choosing to do the bathroom renovation in the first place when creating the design. It's easy to lose track of the goal when you have so many decisions to make. 
For more inspiring ideas for the bathroom visit www.bathify.ca. You can also browse through our site to see our wide selection of bathroom fixtures and accessories that can be used to enhance or upgrade your existing bathroom.