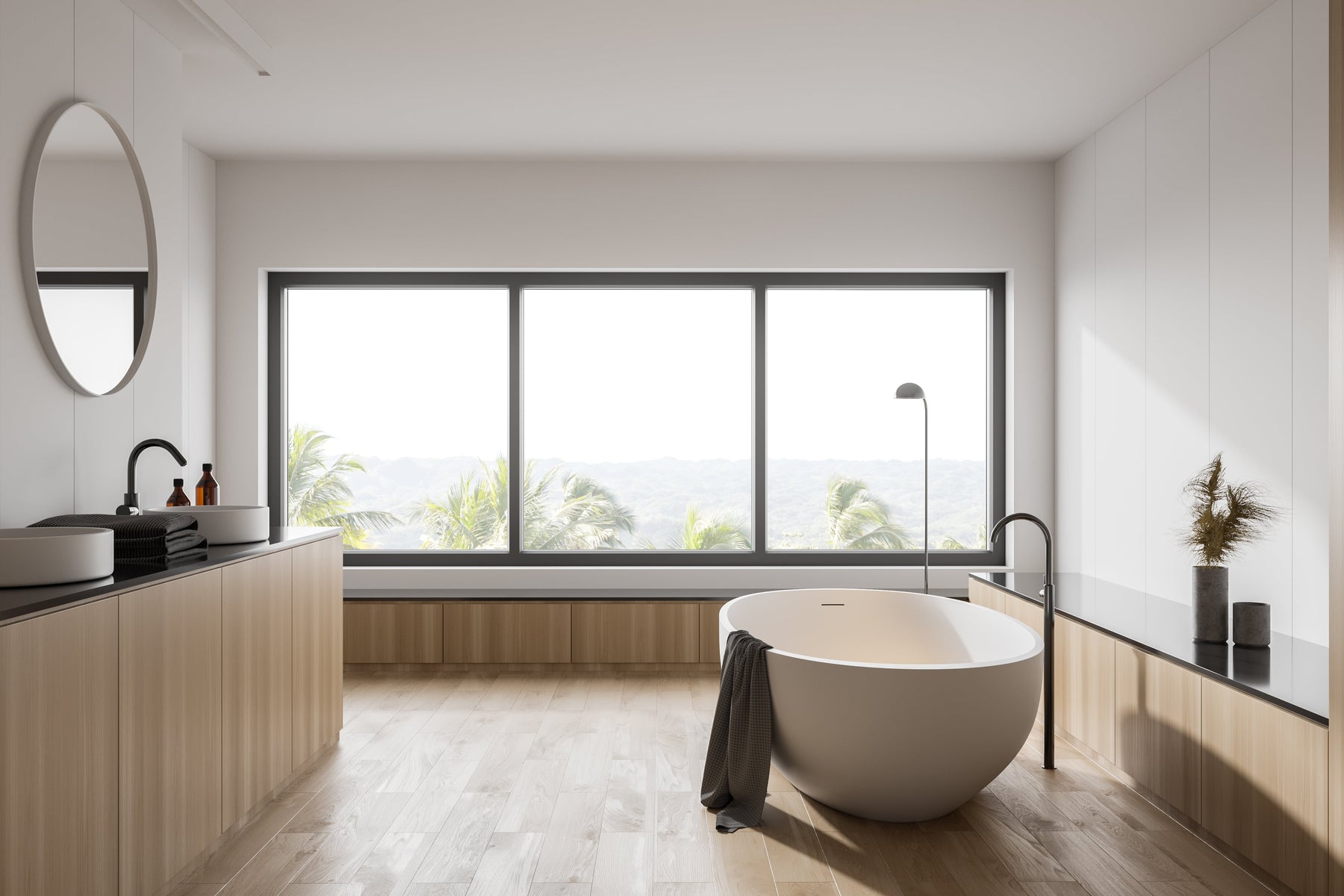 Freestanding Versus Alcove Bathtubs – Which One Would Be Best for You?
One of the biggest questions you'll need to ask yourself before starting a bathroom renovation is what type of bathtub you'd prefer. Alcove bathtubs have been an industry standard for many years and usually fit better into a bathroom. On the other hand, freestanding tubs have made a comeback in recent years since they make a strong fashion statement in the room. To help you decide we have compiled some information about both types that you may find helpful when it is time to choose between the 2 types of bathtubs.
Freestanding Tub Canada
A freestanding bathtub has all 4 of its sides exposed and is made to sit right on the floor. In most cases it becomes the focal point of the bathroom and is the first thing that catches your eye when entering the room. Although these tubs are more difficult to clean and even impractical in some rooms, they are beautiful and inspiring to look at. When you see a freestanding tub Canada you'll probably want to just jump right in to enjoy all the comforts of a luxurious, hot bath.
Freestanding tubs can also fit into any type of bathroom style since they range from traditional to contemporary. They are available in a number of different styles including a claw foot tub, which is a classic, and an egg shape design that offers a modern look. Since they don't have to fit into the tile or into an alcove between walls, you can find these freestyle tubs in many creative shapes.
This type of bathtub has a luxurious look to it that cannot be matched with an alcove tub. You can find freestanding tubs at many high-end spas and many homeowners want to duplicate this look at home. There is nothing like enjoying a relaxing spa-like experience in the comfort of your own bathroom at home.
When you're looking for the easiest installation, a freestanding tub Canada beats an alcove tub. It's easy to install and you'll just need a couple of people with big muscles to move it into the bathtub and set it down. The only other thing that you'll need to do ahead of time is to get the plumbing set up for it.
You'll also have the option of placing it anywhere you'd like in the bathroom. You're not confined to 3 alcove walls. A lot of homeowners decide to place the tub in the middle of the room to create a unique effect. As well, if you happen to have a skylight in your bathroom, you can place the freestanding tub directly underneath it.
As far as the price goes, you'll generally have to pay more for a freestanding unit than you would have to pay for alcove bathtubs. Freestanding tubs are more complicated to build and many come with special design features. In terms of weight, the freestyle tubs can be quite heavy and this is especially true for claw bathtubs that are made from cast iron. The fiberglass models aren't as heavy and are available in a number of modern designs.
You'll Need to Consider Your Shower Options
If you don't have a separate shower already, you may want to look at built-in alcove baths instead of freestanding models. While you can mount a shower to a tub that is freestanding, you'll need to have a wraparound curtain for it and this can negatively affect the appearance of the tub significantly. There are, however, hand-held shower heads that can be installed into the bathtub to help you rinse off.
Alcove Bathtubs
These bathtubs fit directly into an alcove in the bathroom to meet up with 3 walls. They also have a number of different benefits and newer designs can provide you with a sleek, modern look. They have passed the test of time and when you're looking for something that's durable, easy to clean and can be used as a shower as well, alcove bathtubs are a great choice.
A built-in bathtub gives you more storage options than freestanding tubs. You'll have a ledge running along the side of the tub that meets up with the wall where you can put your candles, shampoo, soap and much more. You can also install a tub surround with built-in shelves so that all of your shower and bathtub essentials are always close at hand. When using a freestanding tub you may have to use a bathtub caddy to hold all of your bathing supplies.
Alcove bathtubs are more difficult to install but are generally more affordable than freestanding tubs. The amount you'd save on the bathtub itself will more than pay for the installation costs. They are a practical option and can be considered to be space savers in the bathroom. They sit nestled and out of the way, which makes them a perfect option for smaller bathrooms. 
An alcove bathtub is easier to clean since they usually aren't as tall as freestanding units and don't have as many crevices and cracks to clean. You won't have to worry about cleaning underneath the tub like you would with a freestanding top since you'll only need to worry about washing the inside and the exposed outer side.
Online Bathtub Store
Many people are shopping online for their home furnishings and the same holds true for bathtubs and bathroom supplies. You can find a great selection of both alcove bathtubs and freestanding tubs at our online bathtub store. Browse through our wide range of products including skirted bathtubs, drop-in bathtubs and freestanding bathtub faucets. If you need any help while shopping you can call or email us and one of our friendly customer service representatives will be more than happy to give you a hand.
Shop now for your new bathtub at www.bathify.ca. When it's time to upgrade your tub or are planning a bathroom renovation, we're sure you can find the perfect bathtub on our site that will bring your bathroom up to the next level.