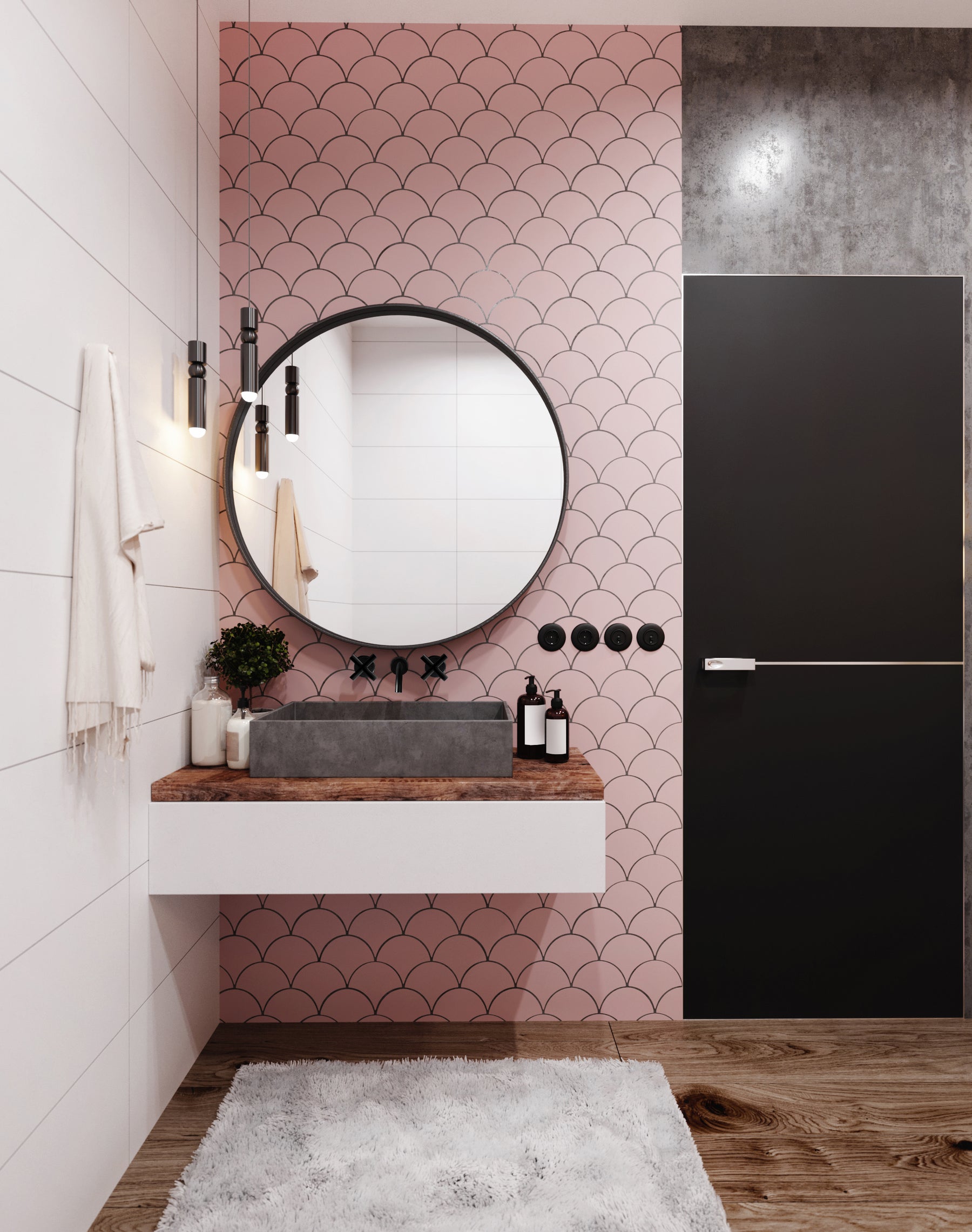 Bathroom Design Trends for 2022
As bathrooms are typically not as glamorous as other rooms in the house, they are often overlooked. It doesn't matter how big or small your bathroom is, it should be a retreat. 
Whether you have a small bathroom or a spacious one, you can make it come alive with bright wallpaper or a soothing colour scheme with accents like a teak stool and a fluffy bathmat for a spa-like vibe. 
With stylish elements such as low-maintenance plants, vibrant window treatments, and plush towels, you'll find the serenity you need to begin and end your day. 
The Best Bathroom Trends in 2022
New subway tiles
Since white subway tiles give bathrooms a clean, bright appearance, they have been popular for a long time. This trend is changing today, however. What is replacing them? Subway tiles with vibrant colours, especially deep blues. While the smooth finish gives your bathroom a clean, fresh appearance, the colour allows you to add more personality to it. 
Subway tiles are also available in other shapes besides rectangular ones. Ceramic tiles come as squares, hexagons, and other shapes with the same glossy finish as subway tiles. This feels both modern and timeless at the same time.
Dual showerheads
Not only is this practical, but it is also symmetrical. Also, these features frame features such as trendy bathroom tiles. 
To make your fixtures stand out, even more, choose fixtures with colours that contrast the room's colour scheme. As an example, black contrasts well with light colours, while white stands out in darker rooms. 
Connect indoors and outdoors
The indoor-outdoor connection is a bathroom design trend that continues to grow over time - and there are many different ways to achieve it. To let in more light and a better view, install big windows or sliding doors in your bathroom.
Some people, however, might not prefer this - especially privacy-loving individuals or those living near neighbours. You can also connect indoors and outdoors by installing shower windows or blinds on your windows so you can let in more light and colour.
You can also use skylights for natural light. To make your bathroom feel a little more outdoorsy and serene. Add potted plants and bits of greenery to create the illusion of being outdoors.
The Classics with a Twist
The latest bathroom trends for 2022 call for a twist on classic patterns, such as checkerboard tiles and Greek keys. Mosaics that create colour blocks might be used to make checkerboards more intricate.
They could be arranged just haphazardly enough to give them that shabby-chic look that makes the walls or shower more interesting. You could add some colour or make your design! Show off your personality.
Incorporate natural elements
Adding more nature to your bathroom is another way to do so. With a stone bathtub or shower, you can add earthy tones and features, or go classic with a marble countertop.
Another great choice is natural wood - look for burled vanities, bamboo, and other beautiful wood grains and shades. Add a touch of nature to your decor. Adding natural elements, like a bowl of stones or a stump-shaped stool, can add a spa-like ambiance. Our Chester vanity series is a perfect match for this, with 100% Canadian maple and local manufacturing.
A spotlight on tubs
Increasingly, bathtubs are becoming the focal point of luxurious bathrooms. A brag-worthy tub is needed to achieve this look. You can choose from stone tubs, marble tubs with beautiful patterns, standalone tubs, or clawfoot tubs.
This trend will require careful planning of the plumbing. Consider leaving plumbing exposed and adorning it with brass when installing a claw-foot tub. A roman tub or tub in a modern style might require cleverly hidden fixtures.
Amazing shower heads
Traditional showerheads are a thing of the past. In today's world, luxury is all the rage, and showerheads are no exception. If you like the feeling of dancing in the rain, consider a rainfall showerhead. A shower jet can clean you from all angles.
The sky is the limit when it comes to showerheads, so choose something you enjoy seeing and using.
Mood lighting for ambiance
A major trend this year is creative bathroom lighting, which goes beyond chandeliers. Lighted mirrors are becoming increasingly popular due to their attractive look. Installing under-cabinet lighting is another great way to enhance the mood.
It draws the eye to your vanity, creating a perfect mood and creating a beautiful focal point. Make your bathroom unique by installing floor lights, illuminating alcoves, or coming up with another creative idea.
Extensive motifs
Clean and minimal bathrooms are made more interesting with detailed and multi-paned tiles. And it doesn't end there. Tiles for bathrooms are available in a variety of styles, from minimal to maximalist. If they're paired with a light scheme and contemporary finishes, they'll make quite a statement.
Hexagon runs wild
One favourite is being taken to new heights by designers. The hexagon will see a playful update, as it is one of the top tile patterns. In bathrooms 2022, look for dainty floor tiles as well as grandiose pieces. In addition, trendsetters won't limit themselves to one tile form.
In one room, they can combine hexagons, herringbones, and subway tiles to create a cohesive look. 
Use colour to add richness
With regards to colour trends in 2022, bathrooms are starting to veer away from whites and neutrals (which are still popular, albeit waning). Rather, the trend is toward earthy, jewel tones.
Greens, deep blues, turquoise, terra cotta, and more are all part of this trend. You can create a warm, comforting atmosphere or a fresh, nature-inspired look with these bold shades.
Antique furniture
Adding vintage furniture to a bathroom adds an unexpected touch of visual interest and becomes a talking point. For the double sink vanity in this Pasadena home, I utilized a vintage sideboard.
You can use an old chest of drawers, armoire, or other vintage pieces. A glamorous new bathroom will look more interesting with them.
Conclusion
When remodelling a bathroom, there are many decisions to be made. However, knowing what other homeowners are doing with their bathroom renovations can be a useful guide to how you might want to approach your project. 
In conversations with your remodelling and design professionals, you might want to mention things like adequate storage and new finishes that your neighbours are paying attention to, as well as design considerations for aging family members.