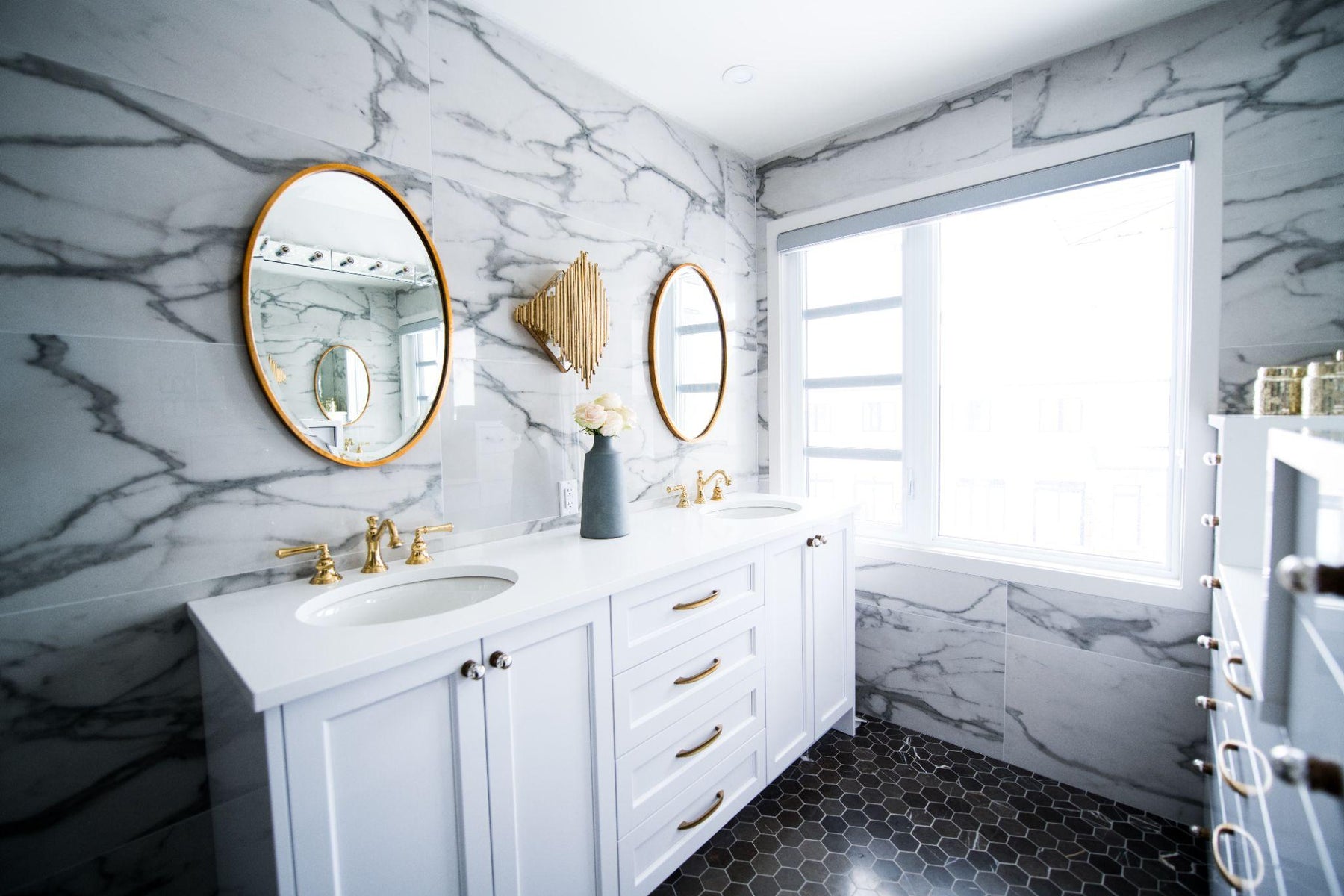 Latest Decor Ideas for Bathroom Vanities Canada
A bathroom vanity is one of the most important spaces in your home and it deserves all the respect you can give it. This is the place where you'll conduct your morning ritual to get the day started on the right foot and where you will end your day in the evening. Read below to learn about the latest decor ideas for bathroom vanities Canada and find out what's trending now.
Strategic Storage Is Key
The one thing that you'll want to avoid as much as possible is a buildup of clutter on your bathroom vanity. Take the time to arrange smart storage ideas so that everything has its own place and is out of sight. Select a few key items that would look good on top of the vanity and give everything else a specialized storage place. If you need to get new shelving units for the bathroom, this would be a wise investment. If you don't have any room for any extra shelving consider purchasing one of the new bathroom vanities Canada designs featuring plenty of storage compartments that have been built right into the unit.
Freestanding Vanity Units with a Smart Sink
Undermount basins are the newest trend for bathroom vanities Canada since they make cleanup a breeze. Any water that collects on the counter can be wiped away straight into the sink basin. If you have a lot of children or like to see a shining clean vanity top every time you enter the bathroom, you may also want to consider purchasing bathroom taps that are wall-mounted. This is a new look that keeps the area around the sink extra clean and they can be used for sinks installed in freestanding vanity or wall-mounted bathroom vanity units.
Double Sinks for a Luxury Look
If you have a partner and don't want to wait for a single sink to be available, look for double sink bathroom vanities Canada. They are also great for families with children. One thing that has been trending in the world of bathroom design are vanities with double sinks for single people as well. They look luxurious and add a new dimension to the bathroom. Whether you are living on your own or with others, double sinks provide an elegant look as long as your bathroom has enough space for a vanity that can accommodate 2 sinks.
Wall-Mounted Bathroom Vanity Units
While freestanding vanity units have definitely been trending during the last few years, wall-mounted bathroom vanity units are making a comeback. They are extremely secure since they mount straight into the wall and are perfect for floors that aren't perfectly level. If you haven't seen the new modern styles of wall-mounted vanities yet, be sure to take a look for yourself. You may find that you prefer this style over the freestanding vanity units after all.
Incorporate a Laundry Basket into the Vanity
Many homes have a bathroom that serves a dual purpose as both a bathroom and a laundry room. If you have a washing machine and dryer in the bathroom or the laundry room is right beside the bathroom, consider incorporating a laundry basket into the vanity. You can also do this if the laundry room isn't close to the bathroom since it's a great place to deposit used towels after a bath or shower.
Look for Vanities with Plenty of Drawers and Cabinets
When it's time to shop for new bathroom vanities Canada, take a look at the amount of storage built into the unit. If you're like most people, you have a lot of items that need to be stored away. When you have a variety of different drawers and cabinets to choose from you'll be able to organize your storage to make the best use out of it. You may also want to consider getting drawer inserts to further divide up the space. Smaller baskets can be used inside these divisions to hold your smaller items such as nail polish, moisturizers, nail clippers etc.
Storage is an important part of any bathroom design and you can get a lot of storage space from your vanity when you choose the right one. While the aesthetics of the vanity are extremely important, never underestimate the power of the functionality provided by a lot of drawer space.
Whether you are looking for a wall-mounted bathroom vanity or a freestanding vanity, visit our site at www.bathify.ca to see a wide variety of bathroom vanities Canada. Choosing the right vanity for your bathroom will set the ambience for the entire room.