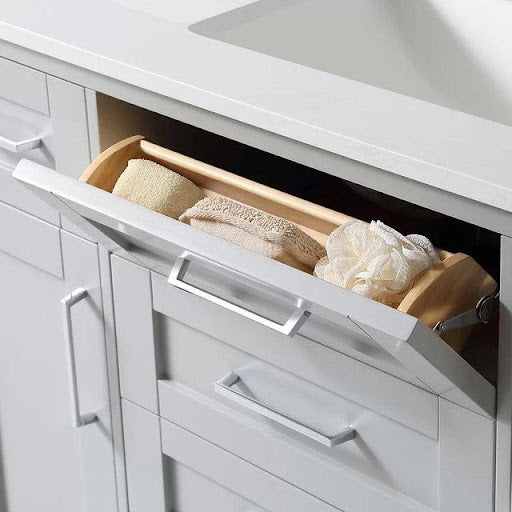 Discover the Most Important Must-Have Bathroom Accessories Online
There are some accessories in the bathroom that are decorative and completely optional while others are more vital. Do you have everything you need in your bathroom to make it fully functional? Do you have the accessories that will bring the aesthetics of the room to the next level? 
Once you have done a bathroom renovation and have had all the major work done, it's time to focus on the finishing touches. Bathroom accessories can be decorative elements that not only make the bathroom look the best it can be but also make it feel comfortable and look well-designed. You can search for bathroom accessories online that will suit the room perfectly and save you a lot of time shopping.
Some of the most important must-have accessories for the bathroom include:
Soap dishes
Towel warmer rack
Towels
Toothbrush holders
Tissue holders
Cup holders
Hooks
Shelving
Toilet brush holders
Medicine cabinets
Mirrors
Shower curtains or doors
Floor mats
Toilet paper holders
Organizing containers
Luxury bathroom accessories
Whether you need just a few or all of these accessories, buy the ones that fit into your bathroom decor the best. There is no need to spend a lot of money on these accessories if you can find nice ones that would look perfect in the room. Even luxury bathroom accessories don't have to cost a lot when you shop at the right bathroom accessories online shop. It can be challenging to fit all of the items you need into a small area so you'll need to choose your accessories carefully.
Towel Warmer Rack
While this may seem like it would fit into the category of luxury bathroom accessories, once you've had a towel warmer rack you'll wonder how you ever lived without one. Many bathrooms have a tile floor and tile walls that tend to keep the room colder than the other rooms in the house. Once you step out of the bath or the shower, this cold can hit you hard. Having a warm towel to wrap around yourself while you are still dripping wet is comforting.
You enjoy the experience of taking a nice hot shower or bath, so make sure that you keep the experience as enjoyable as possible once you step out. You'll have the towel warmer rack available for many years to come so it's definitely worth spending a bit of extra money to get this luxurious item to pamper yourself and the rest of the family.
Liquid Soap Dispensers
Every bathroom should have a liquid soap dispenser. Bar soaps have become a thing of the past since they are known to harbour a number of different bacteria. When you use a bar of soap and then place it back on the soap dish, this soap can become a breeding ground for unwanted germs.
If your family has made the conversion over to liquid soap only, you'll want to buy a dispenser for the soap that matches with the decor of your bathroom. When you purchase the liquid soap from the store, you can just transfer the soap over from the container you bought into the dispenser. This will make your bathroom look upscale and it will be a decorative and useful item to add to the room. You'll find an amazing soap dispenser that will fit into your room perfectly once you start shopping for bathroom accessories online.
Luxury Bathroom Accessories
There are a number of luxury bathroom accessories that are available at reasonable prices that you're sure to love. These items have been created with the consumer in mind, taking into account what the ideal bathroom scene should look like. These luxury items also solve a number of different problems in the bathroom, which is wonderful when you're working with a small, enclosed space.
Imagine not having to bend over to reach over the toilet to grab the cleaning brush that is sitting upright behind it on the floor. Think of a toilet brush that is wall-mounted for your convenience. You can place it at any height so that it can be reached easily at any time. Cleaning the toilet has never been easier!
Another unique accessory that will make your life easier is a wall-mounted glass tumbler. Keep the bathroom vanity counter looking tidy and uncluttered by removing the tumbler you have there now with one that can hang on the wall. It makes life a lot easier when it comes time to wipe up the counter. It will be one less thing to deal with.
You can also get a wall-mounted soap dish that matches. If you are using a liquid soap dispenser you can place decorative soaps in the dish and if you prefer to use bar soap you can keep it there and keep your soap dish off the counter. They are easy to mount on the wall and you can get one that matches the glass tumbler holder.
You may want to also consider getting modern and sleek toilet paper holders and robe hooks. They are incredibly beautiful and these little added touches will provide a wonderful modern and minimalist look to any bathroom. Choose the one that works best with the tone you are trying to set for the room.
The luxury bathroom accessories you choose will contribute to the ambiance of the room and the total effect provided when you first walk in the door. Even these small added touches can create a huge effect at an affordable price. You may be quite surprised to see just how much of a difference they make once they have been installed.
When it comes to bathroom accessories online, shop with a company that you can trust. Bathify is a leading Canadian supplier of the latest trending bathroom accessories and fixtures. You can reach out to us at any time if you have any questions about our products and our website has been designed to be user-friendly. Find all of the luxury bathroom accessories you need to beautify your washroom at www.bathify.ca.