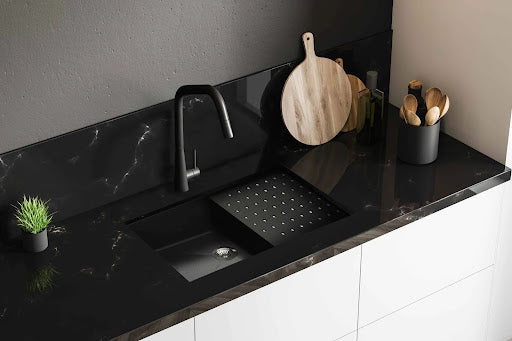 3 Things That May Define Your Kitchens Aesthetic that you Might Not Know
Although we often think of the kitchen cupboards, the flooring and the types of appliances we choose as defining the aesthetics of the kitchen, there are many others that help tie everything together. By carefully coordinating all aspects of the kitchen, you can boost the aesthetic appearance of it significantly.
Aesthetic Kitchen Ideas
In order to form an aesthetic kitchen that you love, you have to make sure that it is balanced and in harmony. This includes finding the right elements such as a range hood, lighting and a kitchen sink, to name a few. You'll be surprised to see the difference it will make to your kitchen aesthetic when you pay special attention to these details.
Choose the Best Kitchen Sink for an Aesthetic Kitchen
The sink definitely plays its part in defining the look of a kitchen. You'll have a variety of materials to choose from including stainless steel, copper, porcelain, granite, natural stone and much more. The best sink to give your kitchen aesthetic a boost is the one that best fits the overall style of the room. You'll also need to take the design of the sink into consideration and choose from a modern sink with an under mount design or an apron front sink that has more of a traditional appearance to it.
If your goal is to create a kitchen with an industrial look, think of a concrete sink or a stainless steel one. Both of these materials are practical and durable and can easily provide a sort of modern, edgy feel and look to the room.
The Range Hood Will Make Its Own Impressive Impact on Your Kitchen Aesthetic
Don't forget about your range. When designing the perfect kitchen. Consider a stainless steel range hood with a sleek design or a wood-covered hood that looks rustic. In 2023, matte black, bronze and brushed nickel finishes are also trending.
If you are trying to achieve a modern sleek look, look for a range hood with a contemporary design in black or stainless steel. They both present an elegant look that is streamlined and sophisticated. If you want to take the modern design a step further to introduce an industrial look into your kitchen, bronze, brass and copper range hoods are available that provide a bold, chic statement. You may also want to pair this up with exposed ductwork or rivets to increase the flair of the industrial design.
Fr a minimalist look and integrated and hidden range hood would work perfectly. Look for one that can be integrated into your cabinetry for a seamless design. It can also be installed underneath a cabinet when you want the range hood to be completely discreet.
Consider the Kitchen Lighting
Lighting fixtures offer both aesthetic and functional benefits. If you have a vintage-inspired kitchen you may want to shop for an older-style chandelier. For modern kitchens, pendant lights add both an aesthetic appeal and bright lighting to the room. If you feel like you have achieved the perfect look but still have to add more lighting, consider placing some recessed lights in the ceiling or under the cabinets. These lights will add a marvelous warm glow to the kitchen, which can work for both contemporary and traditional kitchen decors.
When planning your kitchen lighting, think of using a combination of accent lighting, ambient lighting and task lighting. The overall illumination of the kitchen will be provided by the ambient lighting while task lighting allows you to do your tasks easily without being hindered by a lack of light. Accent lighting can be used to highlight specific features in the room to add visual interest.
Create the Perfect Kitchen Aesthetic
You can create the perfect kitchen aesthetic by taking all of the elements that will be a part of your kitchen and tying them altogether. When you consider all of the different aspects that make the room into a kitchen, you can then build the kitchen of your dreams. If you aren't able to visualize exactly what you want on your own, use a decorating consultant to give you the help you need. You'll then know exactly what items you'll need to purchase and can make your buying decisions with confidence.