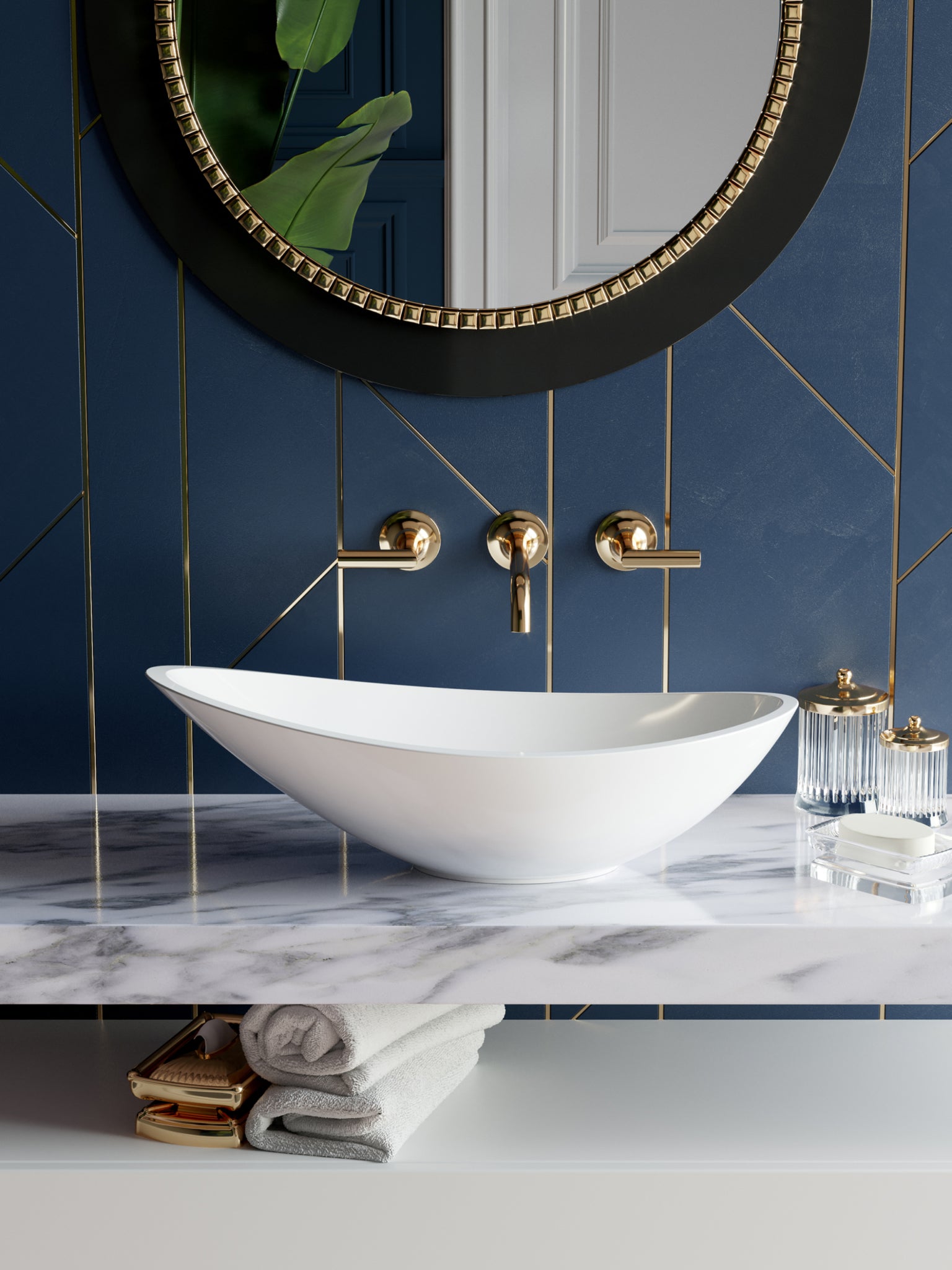 Picking the Right Fixtures to Match a Vanity
Creating the perfect modern bathroom requires finding the right balance between your needs, your dreams, and your budget. A bathroom should not only function efficiently but also give you a bit of peace. Make sure you select a bathroom fixture that's both practical and luxurious.
Fixtures are an important part of any bathroom, but they are often overlooked. It is the central point for many important aspects of self-care in the bathroom. Therefore, choosing the right fixtures is crucial to maximizing their effectiveness. 
As part of your bathroom design, bathroom hardware, or more accurately, bathroom fixtures are essential. Fortunately, there are a few design tips you can follow to make your bathroom selections fun and easy.
Tips for Choosing Bathroom Fixtures
Choose faucets that are eco-friendly and safe
Showers and sink faucets are included in bathroom fixtures. When it comes to going to the hardware store or buying online, both have things you should understand like not installing anything other than certified lead-free faucets.
Design scheme for the hardware
To decorate your bathroom, you will need to take into consideration your home's style. As a consequence, you will be able to choose a bathroom fixture style that best matches your design. The aim is to create a cohesive bathroom design. A beautiful bathroom design can be created when the hardware and fixtures match your interior style.
While some homeowners dislike uniform hardware, others do not think mixing styles is a good idea. For interior design to have a cohesive look, matching fixtures are often preferred so that the focus of a room design does not get lost. The fixtures should always be the same, regardless of style for homeowners.
Styles of bathroom faucets
The faucet is the crown jewel in any bathroom renovation. Even modestly priced faucets come in a bewildering array of shapes and finishes. Modern bathroom faucets also offer interactivity and water conservation options.
Selecting a bathroom sink faucet isn't as straightforward as it may seem. Even though you may like an attractive look, you should take into account how the vanity faucet will work with your sink, the materials beneath its finish, the type of handle that best meets your needs, and more.
It is possible to eliminate certain faucets that do not match the freestanding vanity or are too high or the wrong style based on the design of your bathroom. 
Different faucet design considerations can be dictated by the holes you already have if you just want to replace your old faucet without drilling or filling. Some baseplates cover holes that you cannot see. It may also be used to conceal holes that you don't want to be seen.
Single-hole faucet: This type of faucet includes the spout, valve, and two or three handles together in a single unit that can be cleaned easily. 
Double-hole faucet: Hot and cold valves are located separately in the holes of this two-hole configuration. Before the water reaches the spout, it is mixed by a bridge above the sink. Water flow and temperature can be precisely adjusted with separate controls for hot and cold water.
Finishes and metals used for fixings
If you want a matching vanity and faucet, choose the same finish. It is also common for people to choose a similar style. Two of these factors contribute to the appearance and cohesiveness of your bathroom.
Many people, however, prefer an eclectic look and choose different styles with the same finish. It is purely a matter of personal preference. Keeping the mix of styles balanced is important when you decide this is your style. As a result, you will only achieve a haphazard look, leaving only the eclectic look.
The towel rack, ring, or bar
When it comes to towel racks, rings, or bars, the most important rule is to place them near bathroom fixtures, like the sink and bathtub/shower. Whenever these two areas are used, the towels will be easily accessible. 
Make sure you install a towel bar or ring that matches with the vanity for each sink area if you have more than one sink. This will make it easier for you to obtain a towel when needed. 
Options for soap and toothbrushes
You can either have a wall-mounted soap dish and toothbrush holder or a countertop model near the sink and it should match your vanity design. If you decide to redecorate your home, you may want to consider a countertop soap dish or toothbrush holder.
Sinks
You need to decide which bathroom you are remodelling before choosing a sink. If you want to renovate your master bathroom, you might require different requirements from your family bathroom.
Under-mount sink: Family bathrooms are ideal for these sinks because they are easy to clean. There is a seamless transition from the countertop to the sink.
Top-mount sink: In the opposite direction from an under-mount sink is this sink. In this case, the entire rim of the sink is exposed since it is on top of the counter.
Vessel sink: Vessel sinks consist of a bowl that tops the countertops, as the name implies. Powder rooms are the perfect place for these sinks.
Wall-mounted sink: Wall-mounted sinks are the best option for minimalists. With this sink, there is no need for a countertop, giving the room an elegant appearance.
Drains
A modern bathroom remodel isn't complete without a drain for those sinks that don't come with one. The perfect bathroom sink drain should provide the perfect finishing touch to your bathroom, so there are a variety of options available. Make sure you choose the correct drain by following these simple guidelines.
Choose a style that complements your sink. By selecting a drain that matches the sink in your bathroom, you'll ensure that it presents a stylish appearance. The drain doesn't have to match the faucet or sink. It is often useful to accent the sink with a drain made from a different material or finish.
Conclusion
It is recommended to have a matte gold or brushed gold fixtures and faucets, as these are new finishes on some products. Also, it's important to buy a solid brass vanity faucet for quality and material. Matching fixtures are budget friendly and they can help you maximize the space.
Knowing what to look for in bathroom fixtures should give you a head start on making your decision. Shower-heads, toilets, sinks, faucets, drains, and bathtubs need to be considered.