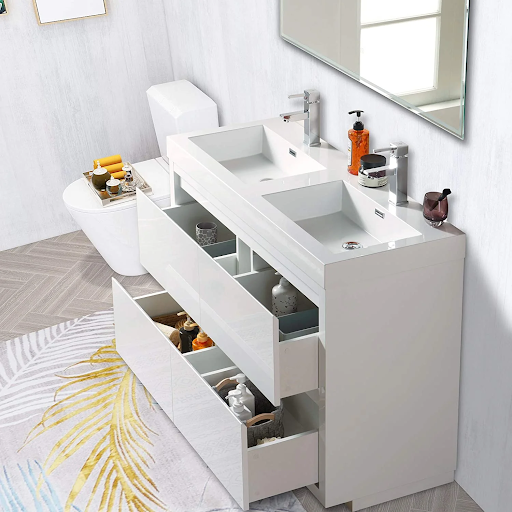 Modern Bathroom Vanities: 5 Brands You Need To Know About
Whether you're after a sleek and modern bathroom vanity or a more traditional one, the sophisticated and high-quality brands outlined below offer a range of options to suit various styles and needs.
By exploring each brand's unique features and strengths, we aim to provide you with valuable insights to help you make an informed decision when selecting the perfect bathroom vanity for your space.
Vanity Art
Vanity Art offers exquisitely modern bathroom vanities, prioritizing quality craftsmanship and attention to detail. 
What makes Vanity Art unique is their extensive range of finishes and materials, including solid wood and natural stone, ensuring that customers can find a vanity that matches their style and budget.
From sleek and minimalist designs to bold and colourful ones, Vanity Art has a variety of vanities to suit every taste.
Kube Bath
Kube Bath specializes in clean and minimalistic bathroom vanities that use high-quality materials such as tempered glass and stainless steel to create a contemporary and polished look. 
Their vanities stand out for their meticulous design, incorporating soft-close drawers, built-in power outlets, and LED lighting to balance functionality and elegance.
Kube Bath's vanities are practical and sophisticated, with various sizes and styles available.
Ove Decors
Ove Decors is known for its luxurious and elegant modern bathroom vanities, combining functionality and beauty. 
Their vanities are crafted from high-quality materials such as marble and quartz, giving them a timeless and opulent appearance. 
The brand offers various sizes and styles to cater to any bathroom.
Mylo
Mylo's modern bathroom vanities are designed with innovation and creativity in mind, utilizing cutting-edge technology and modern design. 
Their products feature advanced materials like carbon fibre and finishes such as matte black, resulting in a contemporary and edgy aesthetic. 
Mylo stands out for their use of advanced technology, such as smart mirrors and touchless faucets, making their vanities practical and innovative. 
Mylo's vanities are statement pieces that bring a modern touch to any bathroom.
Cutler
Cutler specializes in quality and craftsmanship, offering modern bathroom vanities that are both functional and stylish. 
Their vanities are finished with high-quality materials such as solid wood and quartz, resulting in a timeless and classic appearance. 
Cutler's focus on customization sets them apart, allowing customers to create a vanity that suits their specific needs and preferences. 
With a variety of sizes and styles available, Cutler's vanities are designed to be both practical and aesthetically pleasing.
Conclusion 
While we highly recommend any of these premium picks, it can take time to determine which is best for you and your home. 
And that's why our Support Representatives are here for you! Our team will help you select the best piece for your needs and budget. 
Let's Bathify your space - connect with us today!